All in all, Genghis Khan and his descendants subjugated large parts of Eastern Europe, the Middle East, Central Asia and all of China. His exploits are well known by most people, but many people do not know why he was able to conquer lands so quickly and so effectively. Some people simply believe it was just the strength of his horses. While his sturdy Mongolian steeds did play a large role as they were able to travel extremely far and seemed to be as durable as the men who rode them, Genghis Khan also created one of the most loyal armies to date. There are three major reasons why Genghis Khan was so successful in his campaigns. The first of these reasons is the easiest to explain; they are his military tactics and the technology the Mongols employed. These were quite revolutionary for their time, especially for a group of nomads.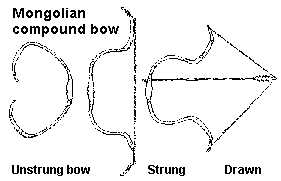 It would seem strange to lump a horse together with technology, but there is no doubt that these hardy ponies were a large part of the success of the greatly outnumbered Mongols. Firing arrows from composite bows on horseback, the Mongolian lightly armored cavalry decimated their opponents. Western knights were trained to fight in hand-to-hand combat, and it was not until the English longbow and muskets were invented that they slowly changed to ranged combat. On the other hand, the Mongolians were trained since childhood to ride a horse and shoot a bow. Not necessarily for combat with other men, but simply for hunting animals and catching runaways from the herd. However, this knowledge can readily be used to fight against heavily armored, slow moving foes. At the time, the Mongols' preferred weapon of choice was the composite bow, which is not given nearly enough credit for winning their battles. With a range of roughly 350 yards and enough strength to rip through crude iron armor, this bow is the first half of the winning equation for the Mongols. In comparison, the English longbow only had a range of roughly 250 yards and was fired in an arc, so the arrow mainly gained its power from gravity, whereas the composite bow was fired more directly (Rossabi, 2). It was said that each cavalryman from the horde carried at least 60 arrows in their quiver, and that they were able to make accurate shots while charging, retreating, or even when they had to turn around on the back of their horse to fire their shot. It is clear that the Mongols used ranged warfare extensively before its dominance in Western Europe, and they used it much more effectively than anyone until modern times with the advent of guns.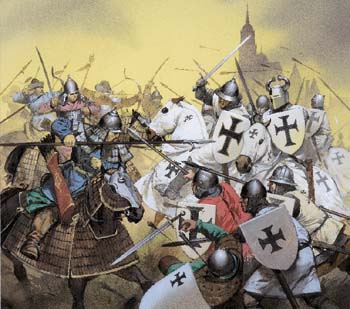 The second part of this equation is obviously the horses, renowned for their endurance and speed. They were shorter than their European counterparts, but what they lacked in height they made up tenfold in other ways. No other cavalry was as mobile and effective as the Mongolians. They used flanking and retreating maneuvers extensively to tire their opponents' horses, and then they would rally and counter attack so that their enemies could not maneuver or escape. Each Mongol had multiple horses so that they could travel much farther than any other army in the world at the time (Chambers, 57). Without a doubt, these horses were what gave the horde the edge over their enemies. However, it would be a mistake to attribute the success of the horde to simply their horses and their bows. While they played a major part in the subjugation of many peoples, Genghis Khan was also a very shrewd diplomat who understood what the people under him wanted.
Genghis Khan was a nomad first and foremost. He shared the same values as many of his warriors, understanding that in war, booty was everything and that winning was the only thing that counted. He shared much of the wealth he obtained from his lands with his soldiers, and this made them all very loyal to him, as he was so generous. Who or where a person came from did not matter as much as their pledge to him (Rachnevsky, 172). He was actually quite tolerant to the beliefs of others and never persecuted anyone because of their religious background. In fact, besides just Mongols, thousands of Chinese and Muslims as well as the native Tartars and Keraits joined his army and were treated as equals. All of the Khan's actions were designed to prevent feuding and internal strife. The unit was not based on family or ethnicity, but rather a large group of mixed soldiers from all sorts of background, commanded by a leader who was chosen by merit and merit alone. He did not use the nobility or the aristocracy to determine his leaders; rather he chose the best man that he thought would get the results he wanted. Genghis Khan himself chose the commanders of the units and they came from all sorts of backgrounds, from his immediate family, sheepherders or even loyal conquered soldiers that pledged themselves to him (leader, 2). Thus any soldier had the possibility of becoming a commander and this created a strong sense of loyalty to the Khan because he was seen as very fair. This merit-based system of advancement created a sense of personal responsibility and made all of his soldiers extremely content and very faithful to him.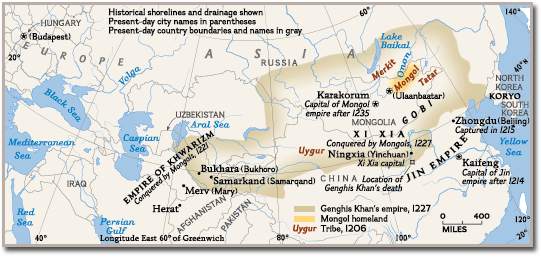 If his fair rule of advancement did not encourage loyalty to him, he also created a very draconian political system to bring harsh punishment upon those that dared defy him. Many people are aware of the great destruction he would leave in the wake of a city that gave resistance rather than surrendering peacefully, but he was also willing to make examples of those that did not follow his rules in his society. The Khan made it clear that he was the primary and sole ruler and that all must obey his will. He created a "Yasa" that held all of the common laws of the nomads and then fine-tuned it to be better able to assert his will. Most of the law still focused heavily on the Mongolian belief of revenge. For example, Genghis' tax law sounds rather strict, "If you do not pay homage, we will take your prosperity. If you do not have prosperity, we will take your children. If you do not have children, we will take your wife. If you do not have a wife, we will take your head" (Baatar). The Khan put his most trusted people in the lands farthest away from him to make sure that his will would be asserted. Discipline was key to Genghis Khan, and his harsh political code ensured that this discipline would be maintained.
Genghis Khan unified all of the Mongolian tribes and gave them what all nomads wanted: prosperity. Under this one word, most of Genghis' actions can be explained. Trade flourished among the lands he conquered due to his code that made his empire the most safe for merchants in the entire world at the time. He started the creation of the largest land based empire the world has ever seen, and his sons carried on his will to their graves as well. But maybe most importantly, Genghis Khan's position on creating a better life for all Mongols through fair, ethical advancements in his administration and intolerance of crime created a great change for those Mongolians used to living the nomadic life. No longer did anyone have to live the vicious cycle of the steppe of herding, raiding and revenge. As the introduction to the Genghis Khan exhibit at the Royal British Columbian Museum states:
"Genghis Khan pledged to share with his followers both the sweet and the bitter of life. In structuring his army, he integrated soldiers from different tribes, thus inspiring loyalty to the Mongol army as a whole rather than to a specific lineage. He gave his enemies one simple choice: surrender and be enslaved, or die. By consistently enforcing discipline, rewarding skill and allegiance, and punishing those who opposed him, Genghis Khan established a vast empire."
No other conqueror in all of history has ever achieved Genghis Khan's level of accomplishment in the world. His fusing of common, yet powerful technology, a merit based system of military advancement, and a harsh draconian system to ensure internal order brought together the largest empire that the world has ever seen.