Syllabus: Revolutionary China
Transformation in the 20th Century
Hist 196: Revolutionary China
Spring 2004
Dr. Daniel Meissner
Coughlin Hall 324 (288-3552)
daniel.meissner@marquette.edu
Office Hours: (by appt.)
Course Description: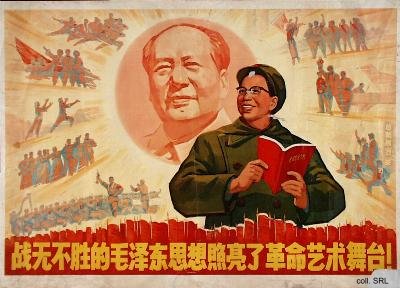 China's 20th century history can be condensed to one word: revolution. In its search for sovereignty, wealth and power in a modern world, China has negotiated a turbulent course through monarchy and free markets, republicanism and bureaucratic capitalism, communism and planned economy, and now Socialism with "Chinese characteristics." Constant upheaval over the last century has ravaged nearly every aspect of the nation's political, social and economic systems, and forged entirely new structures. "Revolution in China" will explore the varied factors which have shaped those structures and directed the nation's modern revolutionary history. Through analysis of historical and literary texts, this course will provide students insight into the critical processes influencing the recent history and contemporary designs of this emerging super power.
Course Goals:
To develop a critical perspective on the historical development of revolution in modern China. To introduce major literary, political and social figures and their works, which precipitated and sustained modern revolutionary movements. To acquire greater knowledge of major political themes, economic trends, and social developments in modern China, and to integrate this information in rational discussion and analysis from a Chinese perspective.
Texts:
Grasso, June, et. al. Modernization and Revolution in China
Various on-line journal articles
Excerpts from:
Barme, Geremie and Linda Jaivin (eds.) New Ghosts, Old Dreams
Barme, Geremie and John Minford (eds.) Seeds of Fire
Fremantle, Anne (ed.) Mao Tse-tung: An Anthology of His Writings
Hsu Kai-yu. Literature of the People's Republic of China
Jenner, W., Modern Chinese Stories
Lau, Joseph S. M., et. al. Modern Chinese Stories and Novella, 1919-1949
Link, Perry (ed.) Roses and Thorns
Link, Perry (ed.) Stubborn Weeds
Lu Xun. Diary of a Madman and Other Stories
Lu Xinhua, et al. The Wounded
Masterpieces of Modern Chinese Fiction, 1919-1949.
Vohra, Ranbir. China's Path to Modernization
Wright, Daniel. The Promise of the Revolution
Papers:
Several short response papers to weekly readings.
Class Discussion:
Each student will be required to lead several discussions during class.
Readings:
In order to adequately prepare for weekly discussions, assigned readings must be completed prior to class. The amount of reading required for this course is substantial and relatively difficult. Unfamiliar Asian names require extra time to memorize correct pronunciation and spelling. Be careful not to fall behind.
Attendance:
Regular attendance and active participation in class discussion are required.
Grading:
Participation
Papers
Moderating Class Discussion
40%
30%
30%
Expectations:
Students are expected to stay current in their readings, complete projects on time, participate in discussions, and abide by Marquette University academic rules and regulations.
Special Accommodations:
Students who need special accommodations in order to meet any of the requirements of this course should speak to the instructor at the beginning of the semester.




Class Schedule
Monday (1/12): Course introduction.
Monday (1/19)
No Class: Martin Luther King Jr. Day
Readings:
Grasso, Chapters 1-2
Monday (1/26): Launching the Revolution -- the Wuchang Uprising and the New Republic
Readings:
Grasso, Chapter 3
Mary Backus Rankin, "State and Society in Early Republican Politics, 1912-18"
China Quarterly, No. 150 (June, 1997): 260-281.
Mao Tun, "Spring Silkworms" (Lao, 144-56)
Ba Jin, "A Moonlit Night" (Masterpieces, 354-63)
Monday (2/2): The New Culture/May 4th Intellectual Roots of Revolution
Readings:
Grasso, Chapter 4
Vera Schwarcz, "A Curse on the Great Wall: The Problem of Enlightenment in Modern China"
Theory and Society, Vol. 13. 3 (May, 1984): 455-470.
Lu Xun, "Madman" and "New Year's Sacrifice"
Bo Yang, "The Chinese Cursed" (Barme and Jaivin, 210-12)
Monday (2/9): CCP vs KMT Concepts of Revolution
Readings:
Grasso, Chapter 5
Hu Kuo-tai, "The Struggle between the Kuomintang and the Chinese Communist Party
during the War of Resistance, 1937-1945" China Quarterly, 118 (June, 1989): 300-323.
Mao Zedong, "Characteristics of China's Revolutionary War" (Fremantle, 88-94)
Liang Pin, from Keep the Red Flags Flying (Hsu, 304-13).
Monday (2/16): Yenan and the Revolutionary Spirit
Readings:
Grasso, Chapter 6
Carl Dorris, "Peasant Mobilization in North China and the Origins of Yenan Communism"
China Quarterly, 68 (Dec., 1976): 697-719.
Cyril Birch, "Fiction of the Yenan Period" China Quarterly, 4 (Oct. - Dec., 1960): 1-11.
Chun Ching, from Dawn on the River (Hsu, 112-24).
Cao Ming, "A Native of Yan'an" (Masterpieces, 482-93)
Monday (2/23): Revolutionary Successes, 1949-1957
Readings:
Grasso, Chapter 7
C. W. Shih, "Co-operatives and Communes in Chinese Communist Fiction"
China Quarterly, 13 (Jan. - Mar., 1963): 195-211.
Mao Zedong, "On the Correct Handling of Contradictions" (Fremantle, 264-97)
Sun Chien, "The Story of a Scar" (Hsu 422-38)
Wang Xingyuan, "The Iron Inspector" (Jenner, 230-242)
Monday (3/1): Monday (2/23): Revolutionary Failures, 1958-61
Readings:
Grasso, Chapter 8
William A. Joseph, "A Tragedy of Good Intentions: Post-Mao Views of the Great Leap Forward"
Modern China, 12. 4 (Oct., 1986): 419-457.
Kang Cho, from Dripping Water Wears Away the Rock (Hsu, 340-353)
Monday (3/8)
No Class: Spring Break
Monday (3/15): The Cultural Revolution, Part I (1966-69)
Readings:
Grasso, Chapter 9 (pp 211-33).
Philip Bridgham, "Mao's Cultural Revolution in 1967: The Struggle to Seize Power"
China Quarterly, 34 (Apr. - Jun., 1968): 6-37.
Zheng Yi, "Maple" (Link, Stubborn Weeds, 57-73).
Xu Hui, "Nightmare -- Notes from a Mother's Hand" (Link, Stubborn Weeds, 48-73)
Monday (3/22): The Cultural Revolution, Part II
Readings:
Grasso, Chapter 9 (pp 233-44)
Anne F. Thurston, "Victims of China's Cultural Revolution: The Invisible Wounds: Part I"
Pacific Affairs, 57. 4 (Winter, 1984-1985): 599-620.
Lao Hong, "The Gap" (Link, Roses and Thorns, 206-220)
Lu Xinhua, "The Wounded" (Lu, The Wounded, 9-24)
Monday (3/29): Deng Xiaoping's Economic Revolution
Readings:
Grasso, Chapter 10 (pp 245- 54)
Justin Yifu Lin, "Rural Reforms and Agricultural Growth in China"
The American Economic Review, 82.1 (March, 1992): 34-51.
Richard Baum, "China in 1985: The Greening of the Revolution"
Asian Survey, 26.1 (Jan., 1986): 30-53.
Xiao Yi, "The Little Egg Girl" (Link, Stubborn Weeks, 161-70).
Monday (4/5): Deng's Suppression of the Democratic "Revolution"
Readings:
Grasso, Chapter 10 (pp 254-70)
Kjeld Erik Brodsgaard, "The Democracy Movement in China, 1978-1979:
Opposition Movements,Wall Poster Campaigns, and Underground Journals"
Asian Survey, 21.7 (July, 1981): 747-74.
Tianjian Shi, "The Democratic Movement in China in 1989: Dynamics and Failure"
Asian Survey, 30.12 (Dec., 1990): 1186-1205.
Su Ming, "Lingering Fear" (Barme and Minford, 137-48)
Yau Ma Tei, "Maosoleum" (Barme and Minford, 189-92)
Zhang Langlang, "My Home is Next to Tiananmen Square" (Barme and Jaivin, 111-15)
Monday (4/12)
No Class: Easter Holiday
Monday (4/19): The "Revolution" in Contemporary Society
Readings:
Ranbir Vohra, excerpt from China's Path to Modernization (pp 307-13)
Li Cheng, and Lynn White, "The Fifteenth Central Committee of the Chinese
Communist Party: Full-Fledged Technocratic Leadership with Partial Control
by Jiang Zemin" Asian Survey, 38.3 (March, 1998): 231-264.
Xi Xi, "The Floating City" (Barme and Jaivin, 416-24)
Xu Xing, "Variations Without a Theme" (Barme and Jaivin, 256-59)
Daniel Wright, "One in Fifty Million: Riding the Rails with China's Migrant Labor"
Washington Post interview: Wen Jiabao
Monday 4/26): Whither the Revolution?
Concluding Discussion