Feng Shui was first used in China in the siting of graves. It was important to site the graves of ancestors in good places that would be unaffected by floods (water) and typhoons (wind). Feng Shui has now become a very popular and practical design element in the western world. Information about a specific site or room is gathered through sensing the balance of yin and yang, and by using a feng shui compass. Traditionally, yin is the dark, feminine, and receptive principle, and yang is the light, masculine, and active principle. Together the yin and yang flow endlessly into each other, and when balanced, can be appropriately applied to interior spaces. A feng shui compass has an inner ring that is comprised of eight trigrams (ba-gua). A trigram is a symbol made up of three stacked lines, a solid line representing yang Ch'i, and a broken line representing yin Ch'i. Creation of the eight trigrams is attributed to the legendary Chinese king Fu Xi. He devised the eight trigrams through Taoist observation of the natural world as seen on the patterns of a tortoise's shell as the animal emerged from the Yellow River. The eight tortoise shell markings became the eight trigrams, which symbolize the natural world as Heaven, Earth, Fire, Water, Lake, Mountain, Wind and Thunder. Fu Xi laid out these eight symbols in an eight-sided map that became the ba-gua, similar to a tortoise shell in shape. Each side of the eight-sided map corresponds to one of the eight areas of life experience: career and journey, knowledge and self-awareness, helpful people and travel, family and health, children and creativity, wealth and prosperity, fame and reputation, and relationships and marriage. By using the compass, the location of each area of life experience can be determined.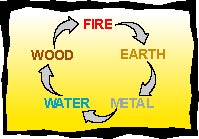 Taoist cosmology is structured on five natural elements: fire, earth, metal, water, and wood. Everything on earth and in heaven is "characterized by the constant interplay among the five elements, which are always moving, unstable, and changeable, like the yin and yang" (Levitt, 21). In Feng Shui, the balanced blend of all five elements creates a harmonious environment. This is attained by applying the nurturing, controlling, and reducing principles of the five elements. In the nurturing cycle of the elements, fire nurtures earth because after fire burns it creates more earth crust. Earth nurtures metal because metal ores are mined from deep within the earth. Metal nurtures water because water is contained and carried in metal vessels. Water nurtures fire because adding wooden logs to a fire causes the fire to become bigger. Balance is also achieved by applying the controlling element, in which fire controls metal by melting it, and metal controls wood by cutting it. Wood, in the form of trees, penetrates the earth and exerts an influence with its roots. Earth controls the flow of water by blocking it with dikes and dams, and water extinguishes fire. In the reducing cycle of elements, fire burns wood, wood (trees' roots) absorbs water, water corrodes metal, metal is extracted from the earth, and earth suffocates fire. These elements are allocated to different rooms in the home and to different objects in order to facilitate the flow of the Ch'i.
Another Feng Shui principle incorporates the Chinese compass of north, south, east and west, in which south is located on the top, and in the center of this compass is the "Middle Kingdom." The direction of south (summer) corresponds with warmth, heat, and vitality, and its symbolic animal is the red phoenix, which represents beauty and goodness. From the north (winter) comes cold snow and darkness, and its symbolic animal is the black tortoise, which represents long life and endurance. The direction east (spring), which is located on the left side of the compass, corresponds to springtime, blue seas, and new growth. Its symbolic animal is the azure dragon, which represents majesty and magnificence. West (autumn) corresponds to snowy mountains, and its symbolic animal is the white tiger, which exemplifies bravery and strength. These elements are used for correct arrangement of furniture in rooms.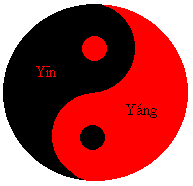 The essence of Feng Shui is to analyze the landscape, house office, garden, etc, and to determine where the most favorable flows of Ch'i are located, and then to work out how to produce new Ch'i of enhance existing Ch'i concentrations. Mirrors are the most common interior means by which Ch'i is enhanced and adverse sha is deflected. Mirrors should be positioned in areas where the flow of Ch'i comes to a dead end. Mirrors intended to enhance the flow of Ch'i should be placed at an angle, so that the path of the Ch'i is directed further along its way. Mirrors meant to counter sha should reflect it straight back out of the house. Sound is another way of deflecting sha. Wind chimes, running water, or any melodic, pleasing sound are all effective ways to deflect sha. The presence of anything living, such as birds, dogs, cats, and plants, helps to ward off sha. Sha travels is straight lines, so straight objects such as fishing rods, armrests of chairs, and bamboo poles can be positioned in a way to repel sha. Anything that moves in a breeze, such as flags, banners, mobiles, and wind chimes, activate and disperse lingering sha. The smoke for burning incense and gently flowing water also disperse sha. Objects that are beautiful and enhance a sense of stillness and serenity, "such as a statue of Buddha, Kwan Yin (the Chinese goddess of compassion and mercy), the Madonna, or even a piece of driftwood or a particular stone," can reverse intrusive sha (Sharp, 76).