Research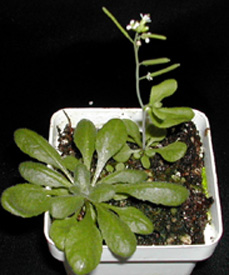 CURRENT RESEARCH PROGRAM - December, 2008

My first research project deals with the investigation of environmental gene regulation in the model plant Arabidopsis (Arabidopsis thaliana). My lab identified the hybrid proline-rich protein (HyPRP)-encoding gene EARLI1 and some EARLI1 homologs as stress-responsive genes (to cold, salt, and oxidative stresses). We determined that EARLI1 protects Arabidopsis tissues from freezing-induced cellular damage, suggesting a role in cold acclimation/freezing tolerance. We recently showed that EARLI1 type proteins are secreted into the cell wall/plasma membrane interphase and form higher order complexes in plant cells that might involve disulfide bonds (Zhang and Schläppi, 2007). We have unpublished data indicating that at least one EARLI1 type HyPRP gene helps protect Arabidopsis against high salinity stress. The Arabidopsis genome has 25 HyPRPs, and our hypothesis is that these HyPRPs will cluster into subgroups of co-expressed genes with similar functions in different stress tolerance pathways. We are currently using a heterologous system to select cold-induced HyPRP genes with the potential to improve freezing survival of yeast cells. From our preliminary data we conclude that HyPRPs with long proline-rich domains (PRDs) significantly improve freezing survival of yeast cells, which allows us to formulate new hypothesis about the function of those genes in protecting the cellular architecture against environmental stresses. We have moreover discovered that overexpression of some HyPRP in yeast retards their growth. We are currently testing which domains of HyPRPs have antifungal and/or antimicrobial activity.

My second research project deals with specific flowering time genes in Arabidopsis. Through genetic crosses and molecular biology approaches I have identified naturally occurring allelic variations in FRIGIDA-LIKE 1 (FRL1) and FRIGIDA-LIKE 2 (FRL2), two flowering time regulator genes in Arabidopsis (Schläppi, 2006). At least one of these genes together with FRIGIDA (FRI) is required to activate the floral repressor gene FLOWERING LOCUS C (FLC). Because neither FRI nor FRL proteins have similarities to known transcription factors, but are predicted to have coiled-coil domains, I hypothesize that they interact with a transcription factor to form an active regulatory complex. Indeed, FRI and FRL homologs in rice share a high degree of similarity with genes encoding B3-type transcription factor-interacting proteins. My long-term goal is to identify this transcription factor in Arabidopsis. This will allow the future identification of its target genes and contribute to the understanding of flowering-time regulation in plants.