HEAL 222
QUALITY IN HEALTH CARE
Syllabus
Required Assignments | Topical Outline | HEAL 222 Webforum
COURSE TITLE: Selected Topics in Nursing: Health Care Quality Improvement

COURSE DESCRIPTION: Explores healthcare applications of quality improvement, including governmental and regulatory influences, standards, and guidelines, quality programs and methods, and process redesign.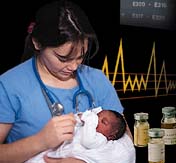 | | |
| --- | --- |
| CREDITS: | 3 |
| PREREQUISITE(S): | Graduate standing |
| FACULTY: | Marianne E. Weiss, RN, DNSc |
| OFFICE: | Emory Clark Hall, Room 331 |
| PHONE: | 288-3855 (office)888-340-8202 (home) |
| E-MAIL: | weissm@marquette.edu |
| OFFICE HOURS: | By appointment |
COURSE OBJECTIVES:
At the end of the course, the student will be able to:

1. Discuss the evolution of health care quality concepts and efforts.
2. Explore the social, governmental, regulatory, and professional pressures that have driven the health care quality field.
3. Analyze the use of standards and guidelines to define and refine health care delivery.
4. Apply quality improvement concepts and methods.
5. Develop an organized plan for assessing and improving health care quality in an organization.
6. Implement process improvement strategies.
7. Redesign the delivery of health care to improve efficiency and effectiveness
REQUIRED TEXT:
Meisenheimer, C,G. (1997). Improving quality: A guide to effective programs (2nd ed.). Gaitherburg, MD: Aspen Publishers, Inc.
BOOKS ON RESERVE IN THE SCIENCE LIBRARY:
Boyette, J.H., Schwartz, S., Osterwise, L., & Bauer, R.(1993). The quality journey: How winning the Baldridge award sparked the remaking of IBM. New York, NY: Dutton Books.
Deming, E.W. (1986). Out of crisis. Cambridge, MA: MIT.
Dever, G.E.A. (1997). Improving outcomes in public health practice: Strategies and methods. Gaitherburg, MD: Aspen Publishers, Inc.
Donabedian, A. (1980). Explorations in quality assessment andmonitoring . Vol. 1.: The definition of qualit and approaches to its assessment. Ann Arbor, MI: Health Administration Press.
Garvin, D.A. (1988). Managing quality: The strategic and competitive edge. New York, NY: The Free Press.
Goldberg, A.M. & Pegels, C.C. (1984). Quality circles in health care facilities: A model for excellence. Gaithersburg, MD: Aspen Publishers, Inc.
Graham, N.O. (1995). Quality in health care: Theory, application, and evolution. Gaithersburg, MD: Aspen Publishers, Inc.
Katz, J.M. & Green, E. (1997). Managing quality: A guide to system-wide performance management in health care. (2nd ed.). St. Louis, MO: Mosby.
Kemper, R.E. (1997). Quality, TQC, TQM: A meta-liertaure study. Lanham, MD: The Scare crow Press.
Talley, D.J. (1991) Total Quality Management. Milwaukee, WI, ASQC Quality Press.
1. Web-based discussions (30 points)

2. Editorial Opinion (20 points)

3. Choice of two projects (50 points)

A. Outcomes Management Project Proposal
GRADING:
The following distribution of grades will be used for this course:
A. 93-100 points
AB. 90 - 92 points
B. 85 - 89 points
BC. 82-84 points
C. 77 - 81 points
F. less than 77 points
GRADING POLICY:
All papers must be turned in by 6 pm on the due date and must be typed using APA format. Papers will not be accepted after the due date and will receive a grade of 0 unless arrangements are made for an extension with the instructor at least 48 hours prior to a deadline. See web based discussion section for grading of web based assignments.
| | |
| --- | --- |
| Class Topics: | August 31, September 14, September 28, October 12, October 26, November 9, November 23 |
| Weekly Web Assignments: | September 7, September 21, October 5, October 19, November 2, November 16 |
| Student Presentations: | |
Required Assignments | Topical Outline